Coming January 2017: Digging it Class
See our Digging it! Flyer and Registration Form and program
Orlando Garden Club's Holiday Market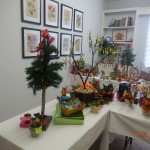 Each year on the second Saturday of November the Club welcomes the  public into its clubhouse and beautiful grounds in Loch Haven Park for the major fundraiser of the year.  OGC member Circles and select vendors will raise money for the Orlando Garden Club and individual circle projects by selling handmade crafts and plants.  Educational materials are also featured to better acquaint the public with the goals of the Orlando Garden Club, plant care, conservation issues, and other relevant topics.
Donations, Scholarships and Community Service    
The Orlando Garden Club and its member circles contribute funds and useful items to a variety of charitable and educational organizations and causes  including, but not limited to: University of Florida, Wekiva Youth Camp, Audubon Society, Nature Conservancy, House of Hope, Ronald McDonald House, Russell Home, St. Vincent de Paul, Primrose School, Lakeside Alternatives, and the Mustard Seed.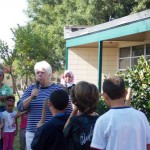 Garden Therapy and Junior Gardening  
Volunteers from the Orlando Garden Club work with    patients at residential facilities and as advisers to public school programs to engage in activities involving planting, conservation, flower arranging and crafts.  Through this interaction the club hopes to promote healing and learning, as well as encouraging others to be involved with nature and gardening.
High School Gardening and SEEK  
Many OGC Circles sponsor high school students in projects relating to horticulture, flower arranging and ecology, and send students to summer study programs through the Florida Federation of Garden Clubs' SEEK project (Save the Earth's Environment through Knowledge).
Wekiva Youth Camp
By granting scholarships and encouraging sponsorship, Circles of the OGC help send local children to the beautiful Camp Wekiva for summer fun and environmental education activities.  The camp, owned by the Florida Federation of Garden Clubs, is located in Wekiva State Park.  Some OGC members serve as volunteer counselors and instructors to work with the 3rd to 8th grade students during the summer.
Grounds and Patio 
Each year the patio chairperson supervises patio maintenance by the circles during assigned months. Each Circle will provide helpers during assigned months.  Don't miss an opportunity to have fun with your Circle members.
Families, Parks and Recreation Department
OGC Liaison, coordinates public events with the other entities in Loch Haven Park at the FPRD meetings.
Membership
The Membership Committee seeks to increase the number of new members by providing informational  pamphlets about the Orlando Garden Club which are  always available in the Clubhouse to renters and prospective new members.  Information tables are set up at flower shows and fund-raisers to inform the public of the Club's goals and encourage new members to join the Club.